Lifetime Guarantee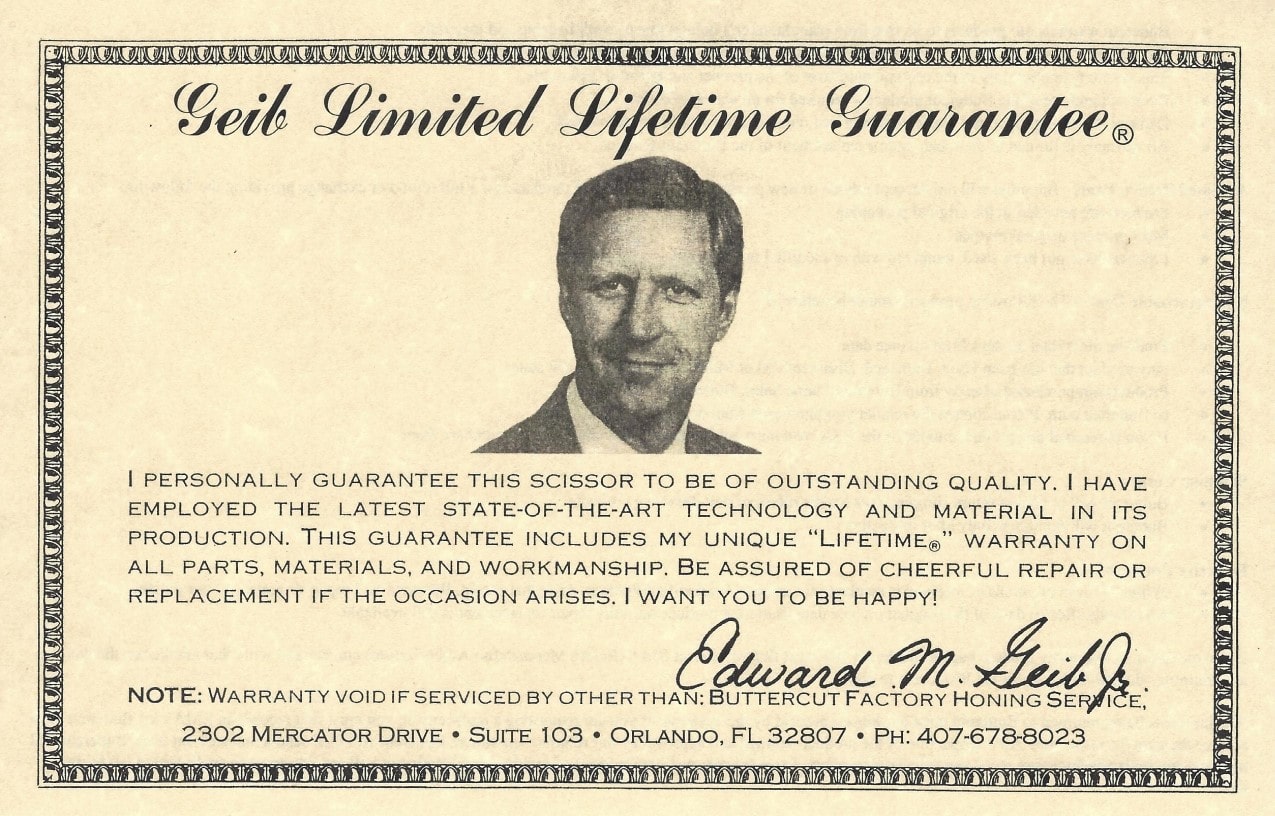 Limited Lifetime Manufacturer's Warranty
Buttercut warrants our products to be free from manufacturer's defects due to workmanship and materials.
The warranty period begins on the original invoice date and covers the applicable period listed below.
This warranty applies only to the original purchaser of the product and is non-transferrable.
Proof of purchase of the Buttercut product is required for all warranty claims.
Damage due to improper use, abuse, unauthorized repair or alteration is not warranted.
All warranty is limited to the repair and/or replacement of the Buttercut product.
All products returned for a Refund may be subject to a 20% restocking fee
Accepted Return Items -
Buttercut will only accept returns of new products within 30 days of purchase for a full refund or exchange providing the following:
Products are new and in the original packaging.
Must produce original invoice.
Products have not been Used, tampered with or modified in any way.
Non-returnable Items -
The following products cannot be returned:
Products older than 30 days from invoice date
Any product that has been Used, Damaged, Disassembled or Modified from its original state.
Products not purchased directly from Buttercut Phone Sales, Buttercut Trade Shows.
or Buttercut.com. Please contact the retailer you purchased from directly.
If you purchased this product outside of the USA, you must contact the retailer you made the purchase from.
Shipping Costs:
Buttercut will not cover return shipping fees for the return of non-defective products.
Buttercut will reimburse only after inspection.
If your Buttercut product fails to function as it was designed, Buttercut will examine its condition upon its return to Buttercut and determine the cause of failure.
If Buttercut determines there is a defect in the manufacture, materials, or workmanship of your Buttercut product, Buttercut, will repair or exchange that product.
Defective Products
Within 30 days of purchase, a refund is available for unused, Unmodified Product. After this period, Buttercut will repair or replace at our option.
No refunds after 30 days of the original invoice date. Buttercut product warranty repair/replacement is still available.
If you are going to return any product back to Buttercut you must first receive an RMA (Return Merchandise Authorization) number and write that number on the box you are returning, along with a copy of the RMA sent to you.
All shipments being returned to Buttercut must be shipped prepaid by the customer If you are requesting a replacement, you must first receive an RMA then Buttercut must receive the item for inspection. After Inspection of the product returned and approval by our returns department, Buttercut will then send a replacement item. Buttercut will not send any replacement before receiving the warranty return. Buttercut may refuse any shipment at the shipper's expense that does not have an RMA clearly marked on the outside of the box. Once the returned item is received and inspected Buttercut will provide any due credit within ten business days.